Although the community was founded in 1828, we had no formal fire department until 1896. During those 70 years, our downtown suffered many fires resulting in very few old buildings along Main Street. In 1912, we had a large wooden barn on Church Street close to Main Street known as the Hose House. It was in this building that our fire horses and equipment were kept. It was not in a good state of repair and not large enough to house the horses, all of the equipment and the firemen after a fire.
That year, there was a very "heated" debate as to whether we should repair that building or build a new fire house. The vote was to build a new fire station. In October of 1912, this building was built at the cost of $8,000 ($5,500 from the City; $500 from taxes; and a $2,000 loan). This is roughly equivalent to $180,000 today.
The basement features a 14 foot x 28 foot concrete and steel jail. At one time, there was a street level window on Second Street. If Dad didn't come home on Saturday night, Mom would send the kids down to look in the window to see if Dad was there.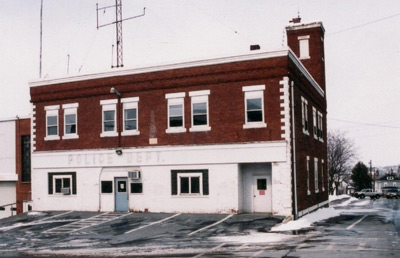 The main floor of the building held six horse stalls and room for the equipment as well as a room for the firemen. With no central heat in those days, the firemen's families took up a collection with which to install a fireplace.
On the second floor was the municipal courtroom, the municipal offices, meeting place for the Selectmen (Presque Isle went to a 7-person City Council in 1939), the hay loft, and the apartment for the man who cared for the horses.
With the opening of the "new" hospital in 1960, municipal offices moved next door and this building became the Police and Fire Department. An addition had been constructed in 1950 to accommodate the larger engines and ladder trucks. The Police Department also added a new jail on the main level in the 1960s. These cells still exist today.
The Historical Society plans to conduct a capital campaign in the near future with which to renovate this property. The facility will house a large museum, research library, gift shop and café, society office space, and space to store the society's collections not on display. In addition to ephemera, historic books and photograph collections, and other small artifacts, the Society also has several large artifacts including a 1900 horse-drawn limousine carriage, 1929 Fire Truck, and a 1953 Fire Engine. Original engineer estimates to renovate the building are $2 million!