In 1828, the communities of Maysville and Fairbanks Mills were established. Fairbanks Mills later became known as Presque Isle and annexed Maysville in 1883. The building on the corner of what is now US Route 1 (Caribou Road) and the Brewer Road is historically significant for a number of reasons. The site served simultaneously as the Town Hall, the Maysville School, and the Maysville Grange. Maysville Centre School closed for good in 1949 and the Maysville Grange ceased to exist due to lack of membership in the late 1980s.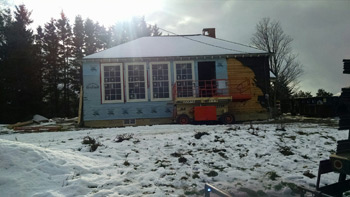 The original building on this site was constructed in 1865. The building burned down in 1916 and a new story-structure was erected in its place. In 1939, the building was again was destroyed by fire. It was replaced with the current smaller, one-story building.
After the closing of the Grange, the building was sold to the City of Presque Isle. In 1996, the ownership passed to a private individual and mostly remained empty. In 2004, another fire damaged the southeast corner of the building.
Presque Isle Historical Society acquired the building after raising capital through local donations in February of 2011. The renovations were completed in 2017 with very generous contributions by local individuals and businesses. In November of 2017, the Society received an Honor Award from Maine Preservation for the restoration efforts on this property. The museum is now open on a seasonal basis every year from June through October.